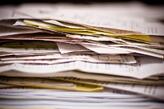 TaxConnex has expanded its outsourcing services to include Exemption Certificate Management and Unclaimed Property Compliance. Maintaining current, valid exemption certificates is critical in managing your overall sales tax risk. Our experienced practitioners will review the certificates for validity, electronically host certificates for easy retrieval, and manage the expiration process by proactively tracking the expiration dates of each certificate.
Our new Unclaimed Property Compliance service will reduce potential unclaimed property exposure and ensure compliance with state regulations. We now offer services to manage and report your unclaimed property including sending due diligence letters, and reporting each abandoned property to the states.
Click here for more information about our Exemption Certificate Management or Unclaimed Property Compliance services and how TaxConnex can help support your sales tax exemptions, reduce risk, and manage the paperwork for you.
About Us
TaxConnex, "your outsourced sales tax department', is America's leading independent sales and use tax outsourcing and consulting firm. Using a team of experienced tax and accounting professionals, we provide sales tax outsourcing, sales tax consulting and VoIP tax service to businesses of all sizes with a focus on technology companies, small and mid-sized businesses, and VoIP providers. Our mission is to provide a complete set of highly customer intimate services including end-to-end compliance, data analysis, remittance, reporting, notice resolution, question handling, proactive suggestions, straightforward advice, and audit support. TaxConnex is your "on-call" Sales & Use Tax Department.