TaxConnex is excited to report exciting growth coming out of 2020. While 2020 was full of chaos and trials, sales tax filings and returns did not stop, and we were able to continue to assist our clients and grow as a company in both employee size and revenue.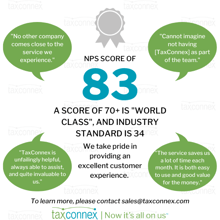 TaxConnex grew 18% in organic revenue in 2020 over 2019 and added 82 new client entities to our portfolio.
Other exciting news comes from a recent client survey reviewing our service levels in 2020. As part of the recent survey, TaxConnex achieved an industry leading Net Promoter Score of 83! These are especially exciting results as the industry standard NPS for the finance industry is a 34.
Net Promoter Score (NPS) is calculated based on responses to a single question, "How likely is it that you would recommend our company/product/service to a friend or colleague?". NPS can be as low as −100 (all detractors) or as high as +100 (all promoters). An NPS of +50 or over is excellent, for most industries, above 70 is world class. TaxConnex's NPS score was 83, and we received no detractor scores in our testing.
"Service and excellence have always been two of our core values at TaxConnex," explained Robert Dumas, founder and Managing Partner at TaxConnex. "We have great pride in the service offerings we provide our clients and are overjoyed with our NPS scores and client feedback. 2020 was a tough year for many businesses, including our own clients, and I'm proud of the way our company was able to endure, provide excellent support and continue to grow amidst the chaos."
The TaxConnex client survey also revealed other great stats on our service:
99% of clients surveyed plan

to continue utilizing

TaxConnex

's

service in the

future

100% of expectations are met or exceeded when it comes to communication and understanding sales tax compliance

requirements
95% of clients surveyed say they are extremely satisfied with the responsiveness of the team that supports their sales tax

compliance
To learn more about TaxConnex's sales tax compliance service and world class customer success, visit www.TaxConnex.com or call 877.893.5304