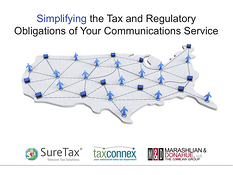 TaxConnex's most recent webinar,
"Telecom Tax: Simplifying the Tax and Regulatory Obligations of Your Communications Service"
is now available on demand.
Presented with our partners from The COMMLaw Group and SureTax, this webinar focuses on the complexities of tax and regulatory compliance specific to telecommunications services and the solutions that simplify the process.
Topics that are addressed include:
Myths and misperceptions of delivering communications services over the Internet
Difference between taxes and regulatory fees
How the changing concept of nexus affects the taxation and regulatory classification of telecommunications service
Options for streamlining the calculation and reporting of various taxes and regulatory fees
How to return form non-compliance to compliance
Receive great information at a fast pace during this webinar, originally presented on TMCnet.
If you are involved with communications tax/telecom tax/VoIP Tax, you'll want to see this webinar. Click here, Telecom Tax Webinar.