In response to the uncertainty around COVID-19, I felt it was important to share our response to this rapidly developing situation. Along with the safety of our employees, our top priority is maintaining a high-quality, uninterrupted service to support your business. Your sales tax compliance continues to be our responsibility. As we've always said, your sales tax compliance is all on us.
To our clients who trust us with their business, it's business as usual. In fact, our network of sales tax experts is made up of remote practitioners across the country working from home offices. When I started TaxConnex,  I wanted to create a business model that empowered skilled professionals the opportunity to earn a living while having the necessary flexibility to work successfully from a home office.  That business model still stands today!  Our practitioners will continue to provide the same white glove service you've experienced since partnering with us because their place of work hasn't been impacted. In addition, our proprietary platform for managing your sales tax is cloud based so it is neither located in, nor dependent on, a physical office to operate. It's designed to support our remote workforce.
In short, you can continue to rely on TaxConnex and have confidence that we are here to support you during this uncertain time.
Finally, if you are considering a remote workforce model during this uncertain period, here are some helpful tips that have made our practitioners successful: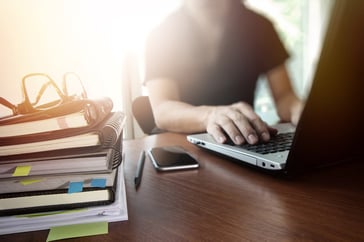 1. Create or maintain a schedule as if you were in the office – Even though you are not traveling to the office, maintain your schedule in wake-up times, getting ready and having set work hours. This includes breaking for lunch and walking around a bit if needed – the only difference is now when you walk around, you won't be chatting at the watercooler; you can let the dog out or throw in a load of clothes.

2. Have a dedicated "office" – If you've ever taken a work from home day, you may have ended up on the couch at some point during the day, but when working from home, you need to create a space that can be used as your workspace. Whether that is an actual room, or space within a quiet area of your house where you have privacy, make sure you have a space that allows you to spread out and focus on your work.
3. Use a project management tool or system – Ensure your projects stay on target by using a project management tool. Even when you can't easily pop over to a coworker's desk to alert them of a new task or deadline for your project, a tool or system can help you and your team stay connected and informed on the status of your projects.
4. Stay connected – This is an add on to tip 3. While a project management tool is very important, you also need a quick way to connect with your team members in order to brainstorm, check-in, share ideas, and in general, keep up normal day-to-day office conversation. For this, utilize your company's chat tool or develop a group or system where team members can continue to connect.

5. Maintain an office phone number – This may just be your office phone forwarded to your cell phone, but by using a different number for business calls you are creating a separation between work and play. This also allows you to appropriately answer calls with the same level of support and professionalism as you would when you receive a call to your office number.
6. Maintain scheduled meetings - Have a standing call on Monday afternoon? Keep it - get accustomed to conference calls and attempt to maintain the same scheduled calls with clients and coworkers. (Consider adding in a video aspect to your conference calls if face to face is helpful)
7. Reduce outside noise and distractions as much as possible - Coronavirus adds another level of noise and distraction with school closures and spouses and partners also at home. But as much as possible, remove distractions from your dedicated workspace, especially on calls. For scheduled calls, put the dog outside or in another room, remove your home phone from the room (or mute the ringer), and provide an activity or outside time for kids.
We appreciate your trust in TaxConnex and are happy to respond to any questions you may have.
Robert Dumas
Founder, TaxConnex