Like self-driving cars, some things are best not 100% automated - sales and use tax is one of those things.
In OPPORTUNITY IN COMPLEXITY, THE RAPIDLY CHANGING LANDSCAPE OF SALES & USE TAX, as seen in the latest supplement from Accounting Today, TaxConnex's Managing Partner, Robert Dumas explains the importance of working with an experienced Sales Tax Outsourcing Service Provider, with a breadth of knowledge of sales and use tax accounting, and not solely a sales tax technology solution.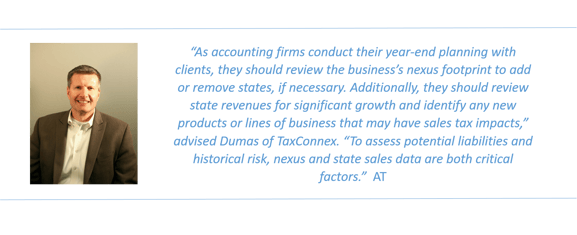 At TaxConnex we focus on providing service. Whether that be through our sales tax outsourcing practice or our consulting practice where we assist with sales tax nexus reviews, audits, VDA's, and taxability reviews. Service is key – understanding clients' issues, developing solutions, following through on our commitments, being responsive to questions and requests – all are critical. Technology complements the great service, but never replaces it.
Click below to read entire article in Accounting Today